What is Marble Inlay?
Inlay is the technique of putting designs or patterns onto the surfaces of objects, which is processed by putting materials such as crystals, beads, precious stones, gold, or silver into the surface of the marble.
One of the most attractive traditional work of art that comes from marble is "Marble Inlay" work. The process involves engraving marble shapes manually in intricate patterns. It is the same work that adorns the  famous Taj Mahal in Agra, India and other monuments located in India.  
Photo from: Pinterest
Nowadays, Marble Inlay becomes famous as luxury Decor for home, restaurant and hotels around the world because of the intricate designs and very delicate feature.
Marble Inlay are commonly used for interior and exterior concept design for floorings, ceilings and walls.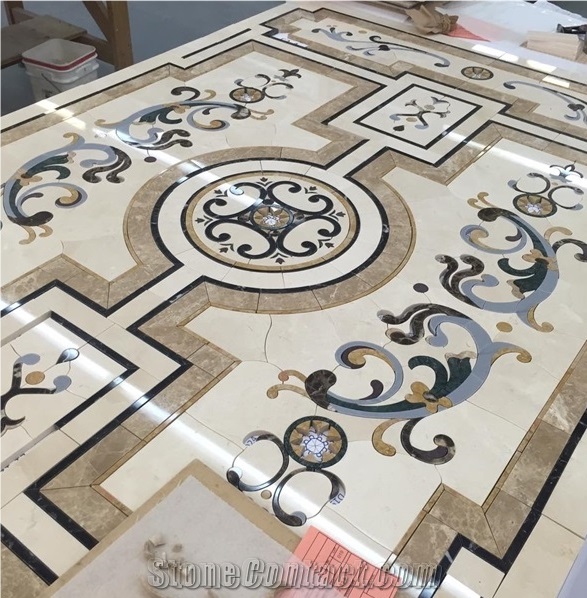 Photo from: Stone Contact
Variety of artistic traditional patterns, floral or geometrical design engraved on the marble slab, and those small stone pieces are precisely fit inside the cut edges of marble. Color combination of each pieces can be artistically created depend on shades based on the elements like crystals or precious stones designs to be used. Apart from stones or crystals, many other materials can also be used to embellish the marble inlay spaces, mostly used to combine the finish product to stainless steel or high quality wood piece to maintain the luxurious feels.
Furniture:  Marble Inlay Stainless Steel Side Table
Marble Inlay Stainless Steel Side Table
Marble Inlay Design techniques are developed overtimes as Decor and Furniture. This lovely marble inlay tabletop from minayn home was artistically crafted by hands and attached to a strong metallic frame, with polished gold finish, combined together for a sturdy and durable stand that is sure to add a dimension of beauty and elegance to any home decor.
 Detachable Marble Table Top attached with the stainless steel finished as durable metal stand. 
Made of finest Indian marble, this hand-carved inlay marble box has Mughal design adorned on it. The item represents the fine carving as seen on the Taj Mahal. This box can be used as a jewelry holder, gift item or to hold your knick-knacks. 
Each of these marble inlay boxes is handmade and contains marble stone boxes inlaid with semi-precious stones like the malachite, mother of pearl, agnate, Italian stones, jasper, etc.
Shop Marble Inlay Decor
Decorative Marble Tray are made with utility bowls with lids and the iinlay work is design as embossed with Meenakari and Kundan work with gold paint finish for a graceful look.
The white marble inlay tray is a fine art piece made by the artisan. You can see the details in the pictures that how beautifully the design is made with the natural semiprecious stones.
It is a beautiful piece that creates a stunning color contrast on Coffee Table/Dinner Table for serving food or drinks or as a beautiful decorative piece that could display anywhere in your home. The marble inlay tray is made in Agra India & fully handmade. To maintain the marble tray simply clean it with soap & water & dry cotton cloth.
Marble Inlay Plates are elegant as tabletop decorations. Serving tray or platters are one among the crucial components of the dining table; they offer versatile function while serving foods. Place these pure marble serving tray on the table to enhance the room ambiance. With floral blue and white inlay work, it is a perfect additional hint of luxury to your home.
The plate is an ideal add on to your home decor. Decorative as well as functional, the marble plate is meticulously crafted for a precision fit and fully polished for a bright and smooth finish with extra care towards every single detail.
Shop Black Marble Inlay Plates
Aesthetically coordinated floral patterns characterize this enchanting plate made with pure, gleaming black marble. An example of the fine art of Marble Inlay, this design depicts the beauty of the flora of northern India and the royalty of the Mughal era. Brought to the country hundreds of years ago by Persian craftsmen, this is a creative rendition of a time that appreciated, valued and encouraged unconventionally beautiful art forms. This decorative yet practical plate exudes style and class, occupying the best spot on your dresser, center table or dining table.
LEARN MORE:
Furnish Your Home With Our Wooden Cabinet Collection
How To Make Your Home Look More Elegant
Stylish Ways To Use Our Storage Box