2020 has been a very frustrating year for most of us. But it taught us lessons that will always be remembered. One of those lessons is to prioritize our home. 
"Home, is where life resides", some of us do not realize this, until now. The situation reminded us to prioritize our home and protect those people that consists of it. 
Even there are huge impact to most things specially those countries that are most affected, life continues. What we called as "the new normal" has become a new trend. As we felt like the world is starting to fall apart, hope has been established in spite of everything.
One of the things we did during this pandemic, is staying at home and it has been the best option since then.
With these all in our minds, let's put 2020 behind and move forward to this year 2021 with raising hope and wider field of vision. We must continue living by uplifting our soul and creating more positive atmosphere, in which we could start from our own space.
Whatever you do, always focus on making your home a safe haven for the life lived inside.
Keep scrolling to learn how to keep enlightening the mood  at home this year.
1. Play with Hues
"Hues are the words of design" and it has a lot to say about the atmosphere inside the room; the tone of walls, the shade of floors, tint of fabrics, and the combination of decor used.
If you are a design junky; you might know this;  "Colors play a huge role in Human Psychology". "The brighter and lighter a color, the more happy and optimistic it will make you feel." 
This perspective is what we really need to start the year from the first and manage it all the way until the twelfth month. If your home has always  been decorated with minimalistic and dull hues, playing with colors must be a good idea for a whole room make over.
There are few things to consider:
TONE OF WALLS
This year, Pantone took the unusual step of naming two colors as their color of the year: Illuminating yellow, and Ultimate pale gray.

Pantone denotes, "The selection of two independent colors highlights how different elements come together to express a message of strength and hopefulness that is both enduring and uplifting, conveying the idea that it's not about one color or one person."
Something that reminds us about the Yin Yang concept in which describes all aspect within the situation of the pandemic, this two tone color perspective pertains to the combination that ties to insight, innovation and intuition, and respect for wisdom, experience, and intelligence inspired regeneration, pressing us forward toward new ways of thinking in spite of the distressful circumstances.
In interior design, using two tone theme can be the best option this year to neutralize the mood inside the room, and lessen dullness at home. Using dark with lighter tone to outline the spaces can be the one thing to consider to improve the color scheme. This styling are mostly used for small space room to maximize the space and make it look bigger and organized, using the two tone hues can also lessen construction of wall divider across the room.
You can always use contrast festive colors that could make the room brighter and less boring. 
But if you would like to stick with your favorite dark tone color, you can use the same color and mix it with the mixture of white.
You can also combine three or more color of interiors as long as it creates a festive hues inside your home. 
See more: Colorful Design Homes
SHADE OF FLOORS
The flooring plays a huge part at home, it serves as the design ground of your house. Shade of floors must always match color of the walls to make the design punctual and soothing to the eyes.
Always choose contrast color on floors to create a neutralized concept.
Min Ayn Home Tapestry | Candle Holder
Image Inspiration: Pinterest
The space between the hallway and entry door of your room can create an impression too. You can always use the same shade to maximize space inside the house. The brighter color of floor creates a spacious illusion across both areas and expresses the unity of design to the theme.
Image: Min Ayn Home | Notebooks | Vases
or you can also use different shade from the same color scheme to mix and match the elements of design. You go by colorful industrial theme (wood like flooring) or go by a classy look flooring. Epoxy and Resin Art flooring is a new trend nowadays, you can choose either one or both, mixture of two chemicals are possible and are durable to use for floorings.
Image Inspiration: Pinterest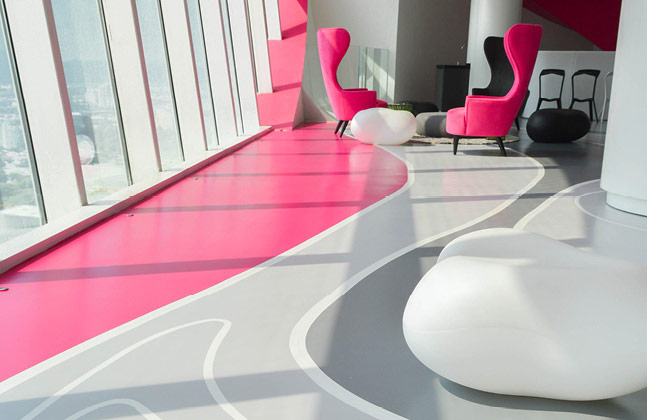 Image Inspiration: Epoxy Concrete Floors or Resin flooring
Epoxy Resin is also used to manufacture Home Decoration too,  and are very in demand to the market nowadays because of durability and the artistic design that it brings.
Image Inspiration: Min Ayn Home
TINT OF FABRICS
The Beddings, curtains, rugs, cushion covers, table cloth or all the fabrics used, play important role to accessorize your home. 
If you go by neutral walls, choose colorful decor to highlight the area. You may combine all neutrals with festive or neon colors to create a lively space.
Image Inspiration: Pinterest
In 2020, the people has been very supportive with local businesses who produce traditional designs made by hands. This includes those local artists and artisans who create to showcase cultural aspect designs.
Image Inspiration: Handmade Cushion Covers
If you go by plain neutral color of sofas, or sheets, you can combine earthly tones with it such us; moss green, dark green, brown, or umber color. Printed cushion covers always look best with plain neutral furniture. Especially handmade cushion covers that are consist of colorful designs and patterns.  
Image Inspiration: Min Ayn Home | Tapestry | Cushion Cover
COMBINATION OF DECOR
Combining decor in same theme can be challenging, you need to pay attention to color schemes as well. Color impacts all aspects when it comes to designing, especially in decorating your home. Perfect matched decorative items are very attractive for the eyes. Since the decor is the highlight of your home, always choose a decor that contrast the color of walls and furniture.
You can mix and match decor at one room to another, as long as it  remains into the spotlight, or you may go by set of decor that matches your theme.
Light Neutral wall styled with dark neutral wall decor set- Decorative Plates
Even the situation has gone "pear shaped", nothing can stop you from creating a beautiful home. Since we are all hooked up to the fact that nothing is a safer place than home, we also think that nothing is safer place to cook or eat than home. You're probably spending much time in your kitchen nowadays and  that is why you must pay attention on creating your dream kitchen.
Most
kitchen decoration
always come in sets, aside from the fact that it makes your space neat and organized, the thought of having set of collection makes your home very interesting and well themed. 
You can always put unique design and shape of decor to make your space interesting.
Image Inspiration: Min Ayn Home | Tableware
When it comes to decorating your home, always choose decor that play with your theme color scheme, the color combination is essential. That's why it is very important to consider your color context before you start decorating your home. Try checking out these articles to learn more about it.
Neutral walls combined with earthly tone decor
Image Inspiration: Min Ayn Home | Vases | Wall Art Decor
Neutral walls emphasize split complementary color scheme or any darker shade decor.
2. Decorate with Indoor Plants
Indoor trees and plants are going to continue their ascent into home design mainstay. They freshen indoor air, bring the clarity and calm of nature indoors, act like sculpture on a shelf or table top, and caring for them is grounding and life affirming. Developing a collection of interior plants wins on all levels: Aesthetic, functional and mental." — Emilie Munroe
Image Source: Planter
 Mugs | Cushion Cover | Marble Inlay | Planter
Houseplants has been in demand since the pandemic. Many people believed that they are good for health specially in the situation we are going through right now. Experts indicate that plants improve concentration and productivity (by up to 15 percent!), reduce stress levels and boost your mood — making them perfect for not just your home but your work space, too.
Since plants need carbon dioxide from us to grow, in exchange, they produce oxygen for us to to breathe. They are not only a decoration to the environment but they also freshen up the air, and eliminate harmful toxins. The fact that we are trying hard to keep our home a safer place, this home decor trend might be  beneficial to our health environment at home.
Read more:  How COVID-19 Is Changing People's Relationships With Houseplants
3. Brighten up the House
Brightening up your space can be challenging, whether it is be a major renovation or just simple redecoration, the secret is to find the perfect combination.
How to brighten up your space without major renovation, depends on how you style your home decoration.
Decorate with lights.
When you choose for the perfect spot to place your center decor make sure to highlight it with the led lights on.
 Image Source: Center Decor
Choose Decor with words and quotes.
Brightening up the house doesn't always pertains to colors and lights you put. Sometimes words can be the best expression of how you feel. Art decor creates an interesting ambiance to your space, it expresses the need for attraction and promotes positive mood at home.
Image Source: Wall Decor
The brighter the art, the brighter the interior. 
While dim light rooms are cozy, adding vibrant artwork will elevate the mood and look of the space.
Image Source: Wall Decor
A bold pink art decor combined with neutral theme bedroom.
Colorful Printed Accent Decor combined with neutral walls and ceilings.
Read more like this:
The Art Of Luxury Interiors; Marble Inlay For Home Decoration
Bathroom Sets You Surely Need!